August 24, 2015 by Aaron Arntz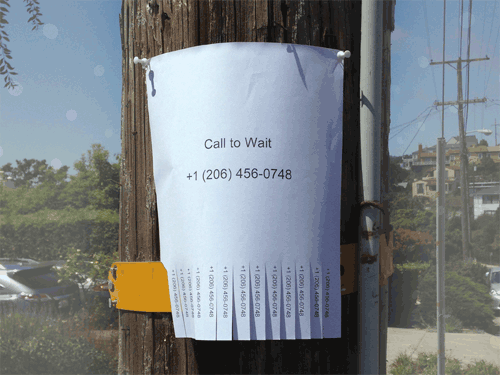 Call to Wait is a super-long-term project by Aaron Arntz. It's a phone line that puts callers on hold for seven years.
Holding callers are subject to listening experiments, until they hang up. On next phoning Call to Wait, callers will be re-identified, and before they are reconnected to the audio stream, automatically notified of their remaining time on hold. For example if a caller has been on hold for twenty-one minutes, she will hear that she has thirty-nine minutes, twenty-three hours, one day, fifty-two weeks, and six years remaining. The Call to Wait website keeps track of the numbers that have racked up the most time on hold, as well as the cumulative wait time of all callers.
When a caller reaches seven years of being on hold, something will happen.
Please Call on a Regular Basis
Call to Wait runs on an software implementation of private branch exchange—the sort of system businesses use to manage multiple lines—to which callers connect via a Washington State number provided free of charge by a company called IPKall.* Among the other technical challenges of the project is that if the free number is not reached at regular intervals, it is deactivated and assigned to another non-paying customer. A first line was disconnected during the project's early development when Arntz himself grew bored.
Supporters of Call to Wait are urged to call regularly to maintain the free on-hold opportunity for all.
A Rare Stream of Completely Missable Content
Arntz is committed to maintain the project until at least one caller has successfully held for seven years. As Internet telephony and the security challenges surrounding the project gradually evolve, Arntz looks forward to meeting the unknowable imperatives of "bringing the project into the present at all times."
"I have a romantic dream of being almost dead and someone wins," says Arntz. The audio-stream is also anticipated to change with his life and interests. Current plans for future broadcast material include:
procedurally generated digital music that morphs over time
audiobooks
a live open microphone
car alarms
real-time generation of audio synthesis
ASMR
dialtones
jackhammers
alarm clocks
xmas music
spanish-language advertising
all traffic reports from all over the world
police scanners
the sounds of waiting rooms
jury duty
Other experiments, like randomly introducing conferencing between holders at given moments, are also planned. In a context where most of what we listen to (most cultural goods in general) is searchable, personally recommended by algorithms, and consumable on-demand, it is hard to remember that not very long ago such things could escape our notice and be missed. Call to Wait is a rare stream of completely missable content moving into the future.
About the Creator
Aaron Arntz is a musician living in Brooklyn. He has played with bands like Edward Sharpe and the Magnetic Zeros and Grizzly Bear, and is currently on tour with Beirut. You can find some of his other work at ambientisotopy.com.
---
* IPKall is a for-profit business. To provide this service, the company partners with International Telecom, "a subsea network integrator that designs, installs, transports and maintains marine cable systems" and that provides call termination services in Washington state, meaning that it receives fees for each incoming call. Such fees are paid by the providers of incoming callers, like AT&T and Sprint. A cut of this money is presumably kicked back to IPKall, which in exchange, offers free Washington State phone numbers. Although International Telecom also is registered to provide termination service in Florida, New York, Oregon and Puerto Rico, blocks of phone numbers have not yet been assigned to it by NANPA (the North American Numbering Plan Administration) — so for now all such free forwarding is done through the state of Washington.
(This is all possible thanks to the fact that rights to call "termination" and call "origination" are sold to telecoms independently of one another, and also that it is currently illegal for providers to price unique calls based on what it costs to connect them. In the mid 2000s, this situation permitted a brief efflorescence of free long distance calling, when enterprising start ups with fate-tempting names like FuturePhone discovered the possibility of partnering with carriers in rural areas where termination fees are high, then connecting their callers via VoIP. Major Telecoms like AT&T quickly pointed out that such arrangements were not in fact free to them, and summarily shut that shit down through the courts. A section of the Wikipedia entry for "Call Termination" called "Sector Ethics" reads as follows: "Due to the virtual, networked and real-time nature of the work, i.e. call termination activity, the entire sector of call termination is subject to a number of business risks. Unmet commitments, parameter information skipping, parameter changing post agreement, payment and credit frauds and quality inconsistencies are rampant in the sector, especially in the lower domain. Accordingly, branding and image building is typically tough and is prized. When a company achieves a certain positive brand image, it becomes extremely important to protect the same which is not always financially and administratively easy due to fast fluctuation in the market.")